Human rights abuses at Tanzanian mine taint LBMA's Responsible Gold standards
The London Bullion Market Association (LBMA) should suspend gold refiner MMTC-PAMP for its failure to act over human rights abuses at the North Mara gold mine in Tanzania, UK corporate watchdog RAID said today. MMTC-PAMP, part of the Swiss-based MKS PAMP Group, said in a statement released on 3 July that it would continue to source gold from Barrick's problematic mine following an "independent assessment" of its supply chain.
RAID said MMTC-PAMP's assessment lacked independence since the site visit was tightly controlled by the mine's owner, Canadian gold mining giant Barrick. Synergy Global, the consultancy hired by MMTC-PAMP to carry out the assessment, failed to meet with human rights victims or Tanzanian civil society groups who have repeatedly reported on the human rights situation at the mine. Efforts by RAID staff to facilitate contact with victims were rejected. In a meeting with RAID, Synergy Global said not meeting with victims was an issue and unusual in its line of work.
RAID published correspondence with the refiner in 2019 and 2020 showing RAID's repeated efforts to bring in the views of local communities.
"The assessment of the North Mara supply chain appears to be a whitewash and fails to meet the LBMA's Responsible Sourcing standards at multiple levels," said Anneke Van Woudenberg, Executive Director at RAID. "MMTC-PAMP seems to have been more interested in ensuring that the assessors met with Barrick staff than with the victims of human rights abuses, leaving the clear impression that the harms suffered by Tanzanian communities were of no interest."
Scores of companies list MMTC-PAMP in their gold supply chains, including tech companies such as Apple, Nokia, Canon, Amazon, Cisco Systems and Lenovo, as well as vehicle manufacturers Tesla and General Motors, gambling company International Game Technology, and entertainment companies Walt Disney and Sony.
PAMP's assessment follows years of abuse reported at the North Mara gold mine, located in a remote part of northern Tanzania. The mine has been plagued by accounts of serious human rights abuses against local community members by security forces since it was acquired by Barrick Gold in 2006. A decade later, in 2016, a Tanzanian parliamentary inquiry received reports of 65 killed and 270 injured by police jointly responsible for mine security. In February 2020, seven Tanzanian human rights victims from North Mara formed the latest group to launch a legal claim at the British High Court against subsidiaries of Barrick.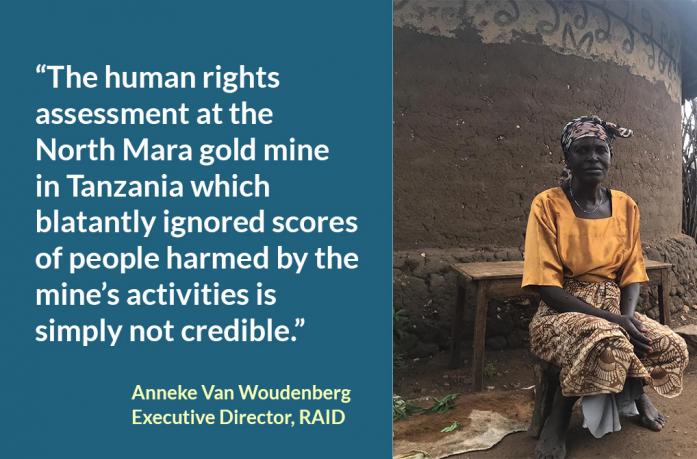 Although it had been sourcing gold from North Mara since at least 2013, MMTC-PAMP announced in June 2019 that it would conduct a thorough assessment of its gold supply chain from Tanzania following further reporting on human rights abuses and environmental harms at the North Mara mine by investigative journalists from the Forbidden Stories consortium. It did not suspend its trade in such gold, however.
More than a year later, on 3 July 2020, MMTC-PAMP published the executive summary of the assessment. The full report was not published. In an accompanying statement, MMTC-PAMP confirmed that the assessment was "jointly coordinated" with Barrick and that the assessor's site visit was "attended by senior representatives of Barrick". It attached a Compliance Report saying it had complied with the LBMA's Responsible Sourcing standards. EY Switzerland, PAMP's longstanding auditor, signed off on this compliance without addressing the need for corrective action by the refiner.
On the same day as MMTC-PAMP published its statement, RAID provided the LBMA with a submission detailing how MMTC-PAMP had failed to adhere to the LBMA's Responsible Sourcing standards. RAID highlighted that the assessment's remit excluded a critical element – the scrutiny of human rights abuses – but instead was "future focused." The assessor recommended that MMTC-PAMP continues to trade with Barrick, without finding that improvement plans to address risks linked with security forces had been put in place, a key requirement under the LBMA's Responsible Sourcing standards.
RAID has urged the LBMA to publicly announce that a review of PAMP/MMTC-PAMP's adherence to its Responsible Sourcing standards is underway and to publish its findings. The LBMA's Incident Review process addresses concerns regarding failures by certified refiners to meet its Responsible Sourcing standards. The LBMA rarely makes announcements about such reviews, although it recently did so in the case of Perth Mint in Australia following reports it was processing gold from small-scale gold miners in Papua New Guinea who used child labour and toxic mercury.
RAID said the LBMA should also publicly explain what safeguards are in place to ensure independence of the review and how it will deal with conflicts of interest. Representatives of Barrick and MKS PAMP Group are members of the LBMA's Board of Directors, and representatives from the MKS PAMP Group companies sit on the LBMA's Public Affairs and Refiners' Committees and act as referees and monitors of the Good Delivery List. The need for safeguards is especially important since the LBMA's Vice Chairman, Mehdi Barkhordar, who is also Vice Chairman of the MKS PAMP Group, signed MMTC-PAMP's previous and latest Compliance Reports.
"An assessment which so blatantly ignores the voices of those harmed on the mine over many years is simply not credible," said Van Woudenberg. "If the public is to have faith that the gold certified by the LBMA is not tainted by serious human rights abuses, then it is crucial the LBMA suspends MMTC-PAMP pending the outcome of a review, and ensures that conflicts of interest are addressed."
Further background:
The LBMA, which runs the world's largest gold market, launched its Responsible Sourcing Programme in 2012 to combat money laundering, terrorist financing and human rights abuses globally. The LBMA says compliance with its Responsible Gold standards is mandatory and that refiners are to suspend sourcing gold from mines where serious human rights abuses are merely a possibility until the refiner can obtain additional information refuting this. Gold refiner MMTC-PAMP has been sourcing gold from the North Mara mine since at least 2013, acquiring accreditation on the LBMA's Good Delivery List a year later, yet has not suspended its sourcing from the North Mara mine.
In February 2020, seven Tanzanian human rights abuse victims from North Mara formed the latest group to launch a legal claim at the British High Court against subsidiaries of Barrick. They include the father of a nine-year-old girl who was run over and killed by a mine vehicle on 19 July 2018, as well as the young girl's female family members who say they were fired at by security personnel without warning when they gathered around the body. A previous lawsuit by another group of Tanzanian victims was filed in 2013, around the time MMTC-PAMP began to source gold from North Mara, and was settled in 2015 by Acacia Mining, a UK-listed company of which Barrick was the majority  shareholder.
For more information, please see:
***
16 July 2020
UPDATE: OUR RESPONSE TO SYNERGY AND MMTC-PAMP
On 10 July 2020, MMTC-PAMP (part of the MKS PAMP Group) published a response addressed to RAID by Synergy Global, the consultancy hired by the refiner to assess whether the Barrick-owned North Mara gold mine in Tanzania met responsible sourcing standards.
In light of this we have written to ask new questions of MMTC-PAMP, Synergy Global and the LBMA. Please see the full response here.