Zenith Security guards replaced rubber projectiles with metal shot before turning their shotguns on those caught on the diamond concession
(25 March 2021, London) – Zenith Security guards employed at Petra Diamonds' Williamson Mine in Tanzania deliberately swapped rubber projectiles with metal shot in their weapons, causing serious harm to local residents shot on the company's concession, UK corporate watchdog RAID said today. Guards were also issued with metal projectiles in contrast to what senior management said was its policy.
The information uncovered by RAID was part of ongoing research into alarming human rights abuses at the Williamson Mine since UK-listed company Petra Diamonds took ownership in 2009. In total, RAID has found evidence of 10 killings and 50 injuries of local residents by security personnel, with the most recent assault occurring in late December 2020.
"Deliberately altering ammunition to cause indiscriminate injury, even death, to local residents raises serious questions about Petra Diamonds' oversight of security at its diamond mine in Tanzania, said Anneke Van Woudenberg, Executive Director of corporate watchdog RAID. "The company's claims that its gems are ethically sourced is completely in tatters." 
Former guard reveals use of lethal ammunition
A former security guard employed by Zenith at the Williamson Mine and interviewed by RAID described in detail the ammunition and practices he witnessed at the Williamson Mine. The guard told RAID, "[i]t is not true that Zenith was only authorised to use rubber bullets. We used other bullets as well." He said guards were issued with a combination of cartridges: some contained rubber projectiles, while others contained metal projectiles.
He explained that guards replaced the rubber projectiles with "small, round metal" pellets or shot, such as "for the bearing of bicycles, so that when they fire, they spread…[which] helps them hit as many people as possible." Sometimes, he said, the guards would mix metal and rubber projectiles in the same cartridge.
RAID checked the guard's testimony with a reputable weapons expert who confirmed that opening and repacking cartridges is easily done.
According to the guard, Zenith supervisors were aware of the practice of swapping out rubber for metal projectiles. While rubber bullets can cause serious injury, even kill, they are not supposed to penetrate, whereas "the gun pellets can enter someone's body and stay there," he said. "Someone would need an operation to remove them, and if they are close to the gun, they can definitely cause death."
The former guard's account is consistent with numerous injuries documented by RAID. Some of those shot on the mine have metal pellets still visible under their skin. In others, the wounds appear consistent with larger metal projectiles. Medical evidence, testimony of those harmed, and information from local community leaders further confirm the claims.
Many of those injured and killed by the Zenith guards were taken to the mine-owned and operated Mwadui hospital, which sits inside the concession, raising questions as to how the company's management could have been unaware of the use of metal projectiles. In one case, an individual shot with metal pellets told RAID that he was visited by the mine's Chief Security Officer while at the Mwadui hospital and that X-ray images of the injuries were taken by the mine's hospital staff.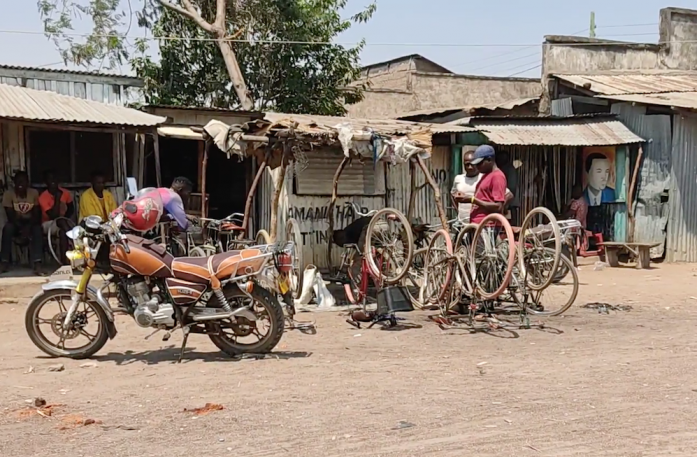 Inconsistency with international standards
International standards provide that use of force by security personnel should not exceed what is strictly necessary and must be proportionate. The intentional lethal use of firearms is permissible only if strictly unavoidable to protect life. Amnesty International says the use of traditional rubber bullets, which contain multiple projectiles in a single shell, should be prohibited as they are "notoriously inaccurate, indiscriminate and arbitrary" and "have no legitimate law enforcement use." Substituting metal shot for rubber is an especially egregious violation, as such shot is potentially deadly.
RAID is unaware on what grounds the issuing of metal projectiles to Zenith guards could be justified.
Petra Diamonds says guards were only "authorised" to use rubber bullets
Petra Diamonds says that its security systems "play an indispensable role in upholding and protecting human rights" and that it has in place "robust internal systems" to manage human rights issues.
In a recently published statement on 9 February 2021, Petra Diamonds said that "Zenith security guards are only authorised to use baton rounds (rubber bullet cartridges) in their shotguns and are subject to strict controls around the use of such weapons, which include a register of any rounds discharged."
But the use of metal projectiles and the deliberate modification of ammunition by guards raises serious questions about the company's policies and its oversight of security.
A few weeks ago, in response to the human rights issues raised by RAID and the commencement of legal action by British law firm Leigh Day in UK courts on behalf of at least 30 victims, Petra Diamonds said it had replaced Zenith Security at its Williamson mine with a new security provider, GardaWorld.
In a letter to RAID on 23 March 2021 Petra Diamonds said it would address the questions raised about the use of metal projectiles and the deliberate modification of ammunition as part of its public feedback on an internal investigation into the allegations of human rights abuses. The company  referred to steps it has already taken that are detailed in its 9 February 2021 update.
"The use of lethal ammunition at the Williamson Mine was in plain sight and it's hard to see how Petra Diamonds could have been unaware," said Van Woudenberg. "While replacing Zenith is a good first step, without a total overhaul of its security management systems there remains a high risk that such harmful practices could be repeated."
Notes to editors:
Petra Diamonds initiated an investigation into the human rights situation at the Williamson Mine, following the human rights allegations by RAID. It has yet to publicly report on its findings.
Zenith Security was contracted to provide security services at the Williamson Mine from 2011 until March 2021. 
RAID found that Zenith guards, operating under the supervision of Williamson Mine employees, were directly implicated in many of the human rights abuses at the Williamson Mine. RAID's report, published in November 2020, describes local people shot with little or no warning, stabbed, detained, stripped, beaten, incarcerated for days in a filthy and cramped holding cell by the mine's entrance, deprived of food and medical treatment, and/or handcuffed to hospital beds at the mine's medical facility.
For more information, please see: