New financial investigation reveals the colossal losses to the DRC state
Pour une version en français, cliquez ici
A new financial investigation released today by anti-corruption coalition, Congo is Not for Sale, reveals that the Democratic Republic of Congo is facing losses of at least $3.71 billion USD from suspect mining and oil deals with notorious businessman Dan Gertler.
An expert analysis of publicly available financial data shows that between 2003 and 2021, the DRC state lost $1.95 billion in revenue. A further $1.76 billion in future royalty payments to Gertler's companies will be lost between 2021 and 2039 if nothing is done to halt the haemorrhage of funds.
"The Congolese government cannot ignore the hemorrhage of billions of dollars from its coffers when it desperately needs the funds to rebuild its economy and pull its citizens out of poverty, said Jean Claude Mputu, a spokesperson from the Congo is Not for Sale coalition. "In light of the findings of this new investigation, there is only one course of action for President Tshisekedi – he should immediately take the bold step of ordering a thorough and credible investigation into all mining deals involving Dan Gertler."
Israeli businessman Dan Gertler has been a prominent figure in the DRC's mining sector. For nearly two decades he benefited from a close relationship with Joseph Kabila, DRC's president from 2001 to 2019, acting as an intermediary for the country's biggest mining deals.
Corruption allegations have followed Gertler for years. In May 2013, former UN Secretary Kofi Annan published a landmark report from his Africa Progress Panel which first highlighted the staggering sums the DRC was losing by doing business with Gertler's offshore companies. It revealed that Gertler's deals for five prized copper and cobalt concessions had resulted in a loss of $1.36 billion to the DRC state.
The financial analysis released today updates the calculations of the Africa Progress Panel which were released eight years ago. Using newly available data, it shows the amount of the losses to the DRC state has only grown in the intervening years.
Congo's President Félix Tshisekedi has said he is committed to tackling corruption in Congo, but he has yet to take action to investigate the mining deals involving Gertler.
In November 2020, in what appeared to be an attempt to curry favour with Tshisekedi's government, Gertler launched a financial scheme called YaBiso, which he claimed would share part of the royalties owed to him from the Metalkol cobalt project with the Congolese people. It was loudly criticized for selling back what should have been state assets in the first place.
Gertler has always strongly denied the corruption allegations against him and insisted that he has brought huge investment to the DRC.
"The revenue that Congo is losing could be used to build schools, pay teachers, provide basic healthcare or pave more roads, but instead it is lining the pockets of a private businessman," said Jean Claude Mputu from the Congo is Not For Sale coalition. "President Tshisekedi's government can step in to halt the future losses and reverse this colossal loss."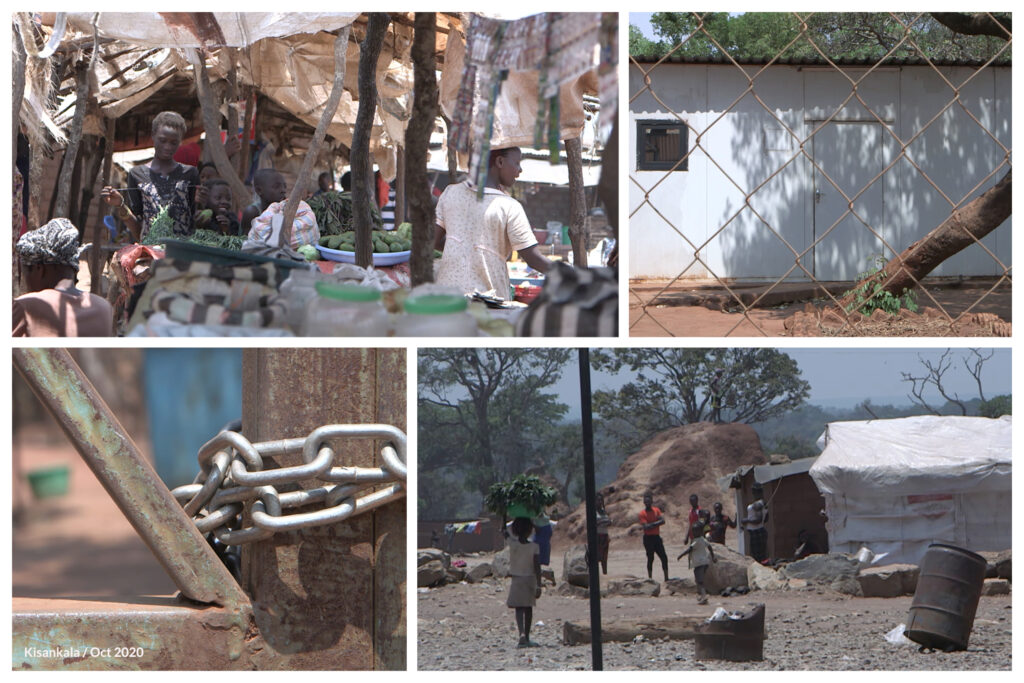 Notes to editors:
The mining sector is critical to Congo's economy, contributing 55% of total revenue in 2017 and representing 99% of the country's total exports.
Gertler was put under US sanctions for alleged corruption in 2017, which were further broadened in 2018. According to the US Treasury Department, Gertler acquired mining or oil licences from the DRC government or state-owned mining companies at knockdown prices before selling them on to international partners, or even back to the government, for incredible profits. He also acquired rights to royalty payments, normally paid to the state and its companies, under dubious circumstances.
In January 2021, in the final days of the Trump administration and following months of efforts by a team of lobbyists, Gertler secretly obtained a one-year license which largely exempted him from the sanctions. Following a public outcry by anti-corruption campaigners, human rights advocates and members of the US Congress, the Biden administration reversed the decision in March 2021.
Gertler's biggest deals involved two multinational mining giants: Glencore and Eurasian Natural Resources Corporation (ENRC), renamed Eurasian Resources Group (ERG). Law enforcement in the United Kingdom, the United States and Switzerland are investigating several of these deals.
Congo ranks 175 out of 189 on the UN Human Development Index. Its government desperately needs funds to rebuild the country's infrastructure and economy devastated by years of conflict.
The $3.71 billion in losses could build more than 10,000 school complexes, or pay for its 21 million people to have access to basic health care for 10 years, or pave nearly 9,000 km of surfaced roads, which would be more than twice the actual surfaced roads of the DRC countrywide.
Methodology used:
The methodology used in the financial investigation to calculate the losses incurred by the DRC state combined the revenue Gertler received from his various assets (what he earned by selling-on the assets, or received from royalties, or received from other contractual payments while he held them) minus the amount he originally paid for them. Gertler's mining and oil deals were often complex and opaque. When several contradicting prices were available, the financial investigation opted for the most conservative option.
In several instances the financial investigation by the Congo is Not for Sale coalition found that the calculations and estimates used by the Africa Progress Panel in 2013 were lower than what Gertler had actually received. Rather than overestimating Gertler's profits, in some cases the Panel had underestimated them.
In response to the Africa Progress Panel in 2013, Gertler claimed that calculations of his earnings did not take into account his investments in the mining assets, although he failed to provide details of these investments nor what, if any, investments he made in his role as a "carried partner," which meant he did not have to raise funds to co-invest in the projects.
The Congo is Not for Sale coalition wrote to Dan Gertler on 2 April 2021 with the main findings of the financial investigation requesting comment, clarifications and/or any additional information. He did not respond.
For further information, please see:
The new report, 'Billions Lost: A Financial Investigation into Dan Gertler's Mining Deals' can be viewed and downloaded here. Pour une version en français, cliquez ici.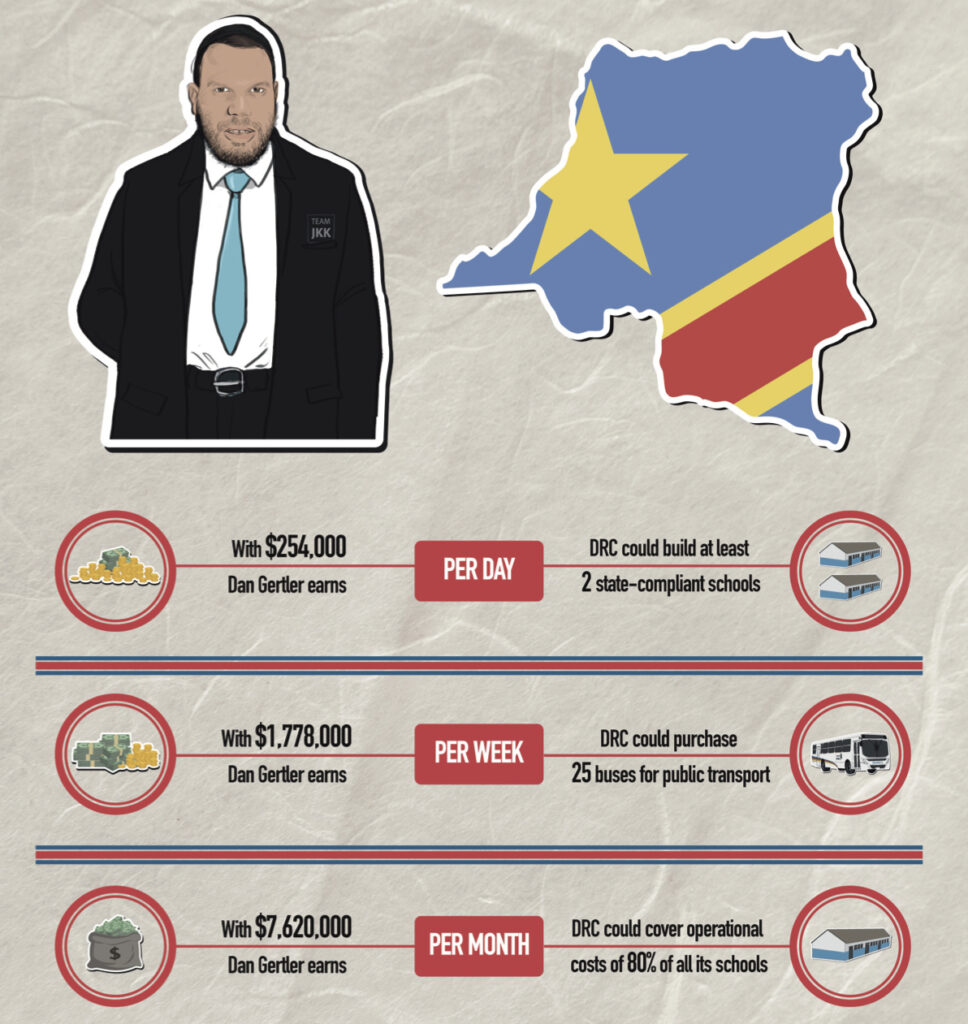 Additional links:
—
The Congo is Not for Sale is a coalition of 16 Congolese and international civil society groups who conduct research and campaign on anti-corruption issues. RAID is a member. Here's the link to its website and its Twitter and Facebook pages.